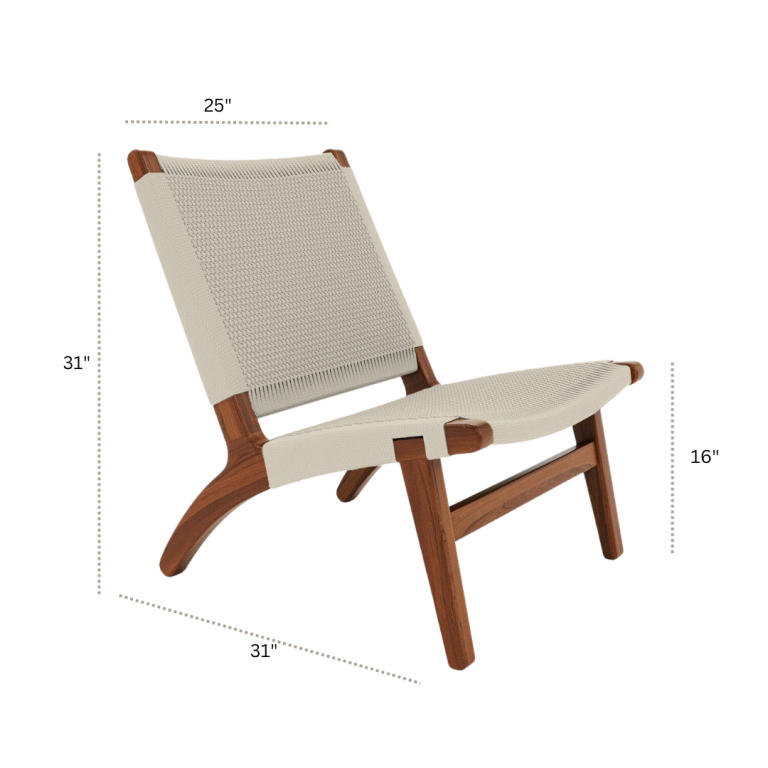 Dimensions
Width: 25″ (63.5 cm), Depth: 31″ (78.74 cm), Height: 31″ (78.74 cm), Seat Height: 14.5″ (36.83 cm)
Materials
Crafted with 100% PolyCottom cords, handmade.
Made from 100% sustainably sourced solid Teakwood.
Packaging Information
Box Dimensions: Length: 34″ (86.36 cm), Width: 29″ (73.66 cm), Height: 33″ (83.82 cm)
Weight: 18 kg
* Package information are approximate and may change. Product dimensions are the same.
Stylish yet casual, the Shobhi Shorea Lounge Chair in Teak Wood is more than just a chic addition to your space; it's a tribute to nature's resilience. The name is inspired by the Shorea roxburghii, commonly known as the white meranti and vulnerably classified due to heavy timber exploitation, this lounge chair combines a sleek profile with a handwoven seat and backrest. Supported by a solid wood frame, it serves as a poignant reminder of the delicate balance between comfort and conservation, making it not only a standout piece in your décor but also your favored relaxation nook.